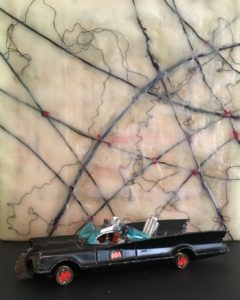 Lying on my yoga mat yesterday, I felt tears rolling down my temples.  It was time for relaxation in shavasana, but somehow the death of my brother, Barrett, who died 16 years ago at age 42, crept into my thoughts.  He has been on my mind a lot lately.  Perhaps it's because my mother recently lost her only sibling.  Perhaps it's because someone asked about Barrett's old toy bat mobile, on of my favorite possessions, on our china cabinet.  Perhaps it's because earlier this week, I recounted a story of my brother's death.
Psychologists have compared the death of a sibling to the loss of a limb; it's like losing a part of yourself.  My life changed dramatically following my brother's death, and it took years of therapy to come to the realization his loss triggered so many changes in my life.
There are some good articles to help in understanding the grieving process of a sibling.  I particularly like this blog post from HealGrief.Org, which goes into how the death of sibling is unique and complicated:
How we grieve the loss of a sibling, and for how long, will be different for every person.  Though the tears on my yoga mat were a surprise this week, what is important is that we allow ourselves to grieve in our own way.
I found comfort and happiness in this tribute by Jason Sherman to his brother, Eric.