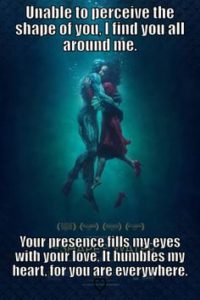 I finally saw The Shape of Water last night (and the night before last).  I rarely watch movies twice and I've never watched a movie back-to-back.  But, The Shape of Water is a beautiful, poignant film that I look forward to watching again.
The film ends with a beautiful poem that many people have been trying to find out about.  Although many people have attributed the poem to Rumi, it seems more likely that it is an adaptation of a poem by 11th and 12th century Sufi mystical poet Hakim Sanai.  There is a great post about attribution of  this poem on the Library of Congress blog website:  https://blogs.loc.gov/catbird/2018/03/who-wrote-the-poem-at-the-end-of-the-shape-of-water/
The poem acknowledges how after death, those we love are still part of our lives and live on through us.  Likewise, many find it comforting to know that after death, we live on in the lives and hearts of those who love us.
Unable to perceive the shape of you, I find you all around me. Your presence fills my eyes with your love. It humbles my heart, for you are everywhere.