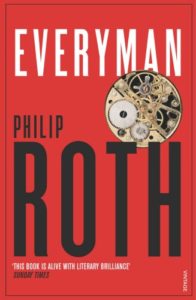 When Phillip Roth talked about the death of his friend, Saul Bellow, he said "A great man has died.  There are very few great ones in our midst.  That adds a certain twist to the grief."  A cruel twist indeed–like many around me today, I am surprisingly and deeply saddened by Roth's death.  A Canadian friend in town seemed a bit bewildered the by the depth of news coverage–it's in all the papers, on the radio and television.  Meanwhile, I received a texts from friends who shared a love of Roth's writing, and a number of neighbors were lamenting it on our morning walks.
What did Roth, as a teacher of the human condition, have to say about death?  Well, in addition to sex, mortality was one of his great subjects.  Roth's father was in the insurance business.  Although Roth grew up looking at the actuarial booklets from the insurance company about ages of death, he believed that nothing ever helps one come to terms with the knowledge "that you are born to live and you die instead" and lamented becoming a master of the eulogy in his later work.
In Everyman, which has been described as a stunning meditation on the meaning of mortality, Roth said that "old age isn't a battle, it's a massacre."  He wrote of how a life could be summed up as a patient dossier, a medical biography.  And, while there is a prevalent illusion that with all of our modern technology, we should have some control over our outcomes, Roth knew that wasn't the case.  He described the death process as a bad contract that we all have to sign and scorned false sentiment and the consolation of a religion that promises we won't die.  In an interview a few months ago, Roth quipped that waking up morning after morning at his age "produces the illusion that this thing is just never going to end, though of course I know that it can stop on a dime."   Although many of us are feeling the loss of the sudden stop of Roth's life this morning, we are also grateful for the lasting work and insights from a great man.